Author: Mike Dunham, Alaska Dispatch News 1/12/17
Alaska Dispatch News Link: https://www.adn.com/arts/music/2017/01/12/for-anchorage-musician-laura-oden-dormant-decade-led-to-a-musical-revival/​
"My father was a theologian and my mother was an actress," Laura Oden said with a slight grin and a little shake of her head. "So it was sort of inevitable that I'd become a songwriter." 
Oden's second CD, "Peel Back Another Layer," is being released this month. Fans got a first-look preview at Tap Root Public House on Jan. 7 and the big party, at which Oden will be backed up by a full band, will take place on Jan. 27, also at Tap Root. 
The nine cuts on the album, all but one originals, follow the familiar folk-pop layout of verse-chorus-repeat with a soft vocal sound and Oden's delicately intricate guitar work. 
They ruminate on family loyalties, love, the meaning of life and whether or not the TSA actually makes travel any safer, all steeped in an ambiance of introspection. 
"My heart has been / smashed wide open again / and I am fragile, my friend / from bone, to flesh, to skin," go the lyrics of "Try Again. "So throw me a new rope / and I will catch the end." 
"All my songs are from personal experiences," Oden said. "They have a very organic feel." 
Born in Oklahoma, Oden lived in New Jersey, Texas and Washington, D.C., before venturing to Alaska in 1993. "I came up in 1993 to visit a friend," she said. "I loved it, but I didn't think I could live up here. But when I got back to D.C. I found I couldn't stop thinking about Alaska. Even when I came up on that very first trip I knew the people I wanted to be around were here."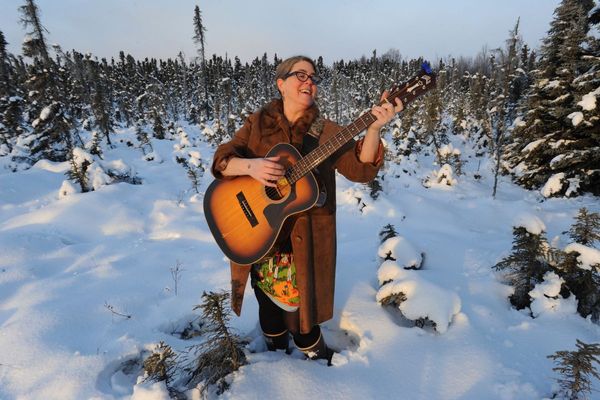 (Photo Credit: Bill Roth / Alaska Dispatch News)

She moved up the next year and quickly enmeshed herself in the Anchorage music scene. With Isobel Morris, she formed the Pagan Cowgirlz duet — occasionally joined by third parties — and played coffee shops and festivals from Homer to Talkeetna, not to mention Anchorage bars like the Flight Deck and the Pioneer. 
In 1996, Morris returned home to England. Oden continued to sing with other local musicians but let it drop after the birth of her daughter Chloe in 1998. For the first decade of the 21st century her guitar gathered dust. It may have been time well spent, she mused philosophically. 
"We don't always appreciate the fallow times," she said. "There's a reason why these things sometimes get delayed."
In 2010, rather suddenly, she dusted off her six-string and plunged back into music. "It was so unexpected," she said. "I really didn't think I'd get back into music. But when it happened, it came out like a tidal wave, like uncapping a well." 
Her first CD, "Alchemy," came out in 2013. She described the songs as expressing herself "experiencing the world with passion and an open heart … having faith and believing the 'magic' or alchemy needed will appear when needed." 
In both "Peel Back Another Layer" and "Alchemy" the introspection of the lyrics seems to dominate the music, but Oden says her songwriting process always begins with a guitar chord progression or even a riff. Then comes the melody and finally the words, although she also journals and sometimes refers to previous entries for ideas that will get worked into the songs. 
"I can't seem to work any other way," she said. 
But she does do a lot of other work in the local music milieu. She's the founder and director of the Anchorage Music Co-op. It was originally formed with the specific intent of creating a "listening room" for musicians. "There aren't many venues in Alaska, but you need performance opportunities." 
"There is a strong linkage between successful cities and their relationship to the arts," she said, adding that Anchorage has already taken some steps in the right direction with the city's Live. Work. Play. initiative. "There are plenty of businesses. We're just missing a lot of the links and infrastructure that other states and countries have long ago established." 
The Co-op has presented showcases at various venues around town and led to a second project, the Under 21 Open Mic series. "We knew there was a need for young people to have the chance to perform on stage. You'd see them coming up for the first time shaking and nervous." The Open Mic experience helps them gain confidence and poise, she said. "The kids love it. Their parents love it. Their aunties love it." 
In February she'll go with another dozen or so Alaska musicians to the big Folk Alliance International conference in Kansas City, in part to learn what other places are doing to facilitate music and the arts.
Juneau broadcaster and musician Annie Bartholomew will be one of the Alaskans heading south. She described the event as a gathering of musicians, labels, journalists and industry people with workshops, talks and performances. 
"I'm going to learn more about the folk scene and how to bring more people to Alaska," she said, "how to book talent effectively. It's really tough being off the road system, but there's a whole lot of talent in Alaska and my mission is trying to get documentation of it all." 
Other Alaskans include Michael Howard, Yngvil Vatn Guttu and the Talkeetna [sic] Rafters. One aspect of the event that particularly interests Oden will be the debut of the conference's "Alaska Room," a hosted venue where Alaska talent will be showcased from 10:30 a.m. to 3 p.m. daily.
"I don't know how I get myself into these things," Oden said. "My own music and the Anchorage musical community are inextricably linked. I just can't help but put my toe in all kinds of things." 
The timing of the new album has been propitious, she said. "I've had a lot of very nice opportunities coming my way, some really great shows lately." She particularly enjoys house concerts. "Absolutely the best way to experience music," she said. "Very two-way. Very conversational." 
And Pagan Cowgirlz fans will want to note that Morris will be back in Alaska this year for a reunion with her old stage partner. 
Oden said she spent a lot of time thinking about "Peel Back Another Layer." "The unifying theme of the album is getting to the next level," she said, "where you can express yourself more deeply."