Author: Zakiya McCummings Anchorage Press
Feb 2, 2017
The dim lit bar is filled comfortably with chattering guests. Across the room, two women clink classes over their dinner plates. It appears as though everyone has arrived with someone else. Just after 7 p.m. a woman with sandy-brown hair and round glasses takes the stage. 
"Hi everyone," she says. The crowd cheers. "I'm Laura Oden." 
Oden is a familiar and constant presence in the Anchorage music scene. In the 90s she was one half of the duo Pagan Cowgirlz, but more recently she co-founded the Anchorage Music Co-op, helped out with Parlor in the Round and released her first full-length album,Alchemy. 
Her Friday night show at TapRoot is a celebration of her second major release, Peel Back Another Layer. By the time Oden takes the stage just 10 minutes to eight, the crowd is warmed up from an opening set by Steven Bacon and gives her a booming round of applause. Local musicians Cameron Cartland, Jay Strange, Lena Lukina and Yngvil Vatn Guttu join her onstage.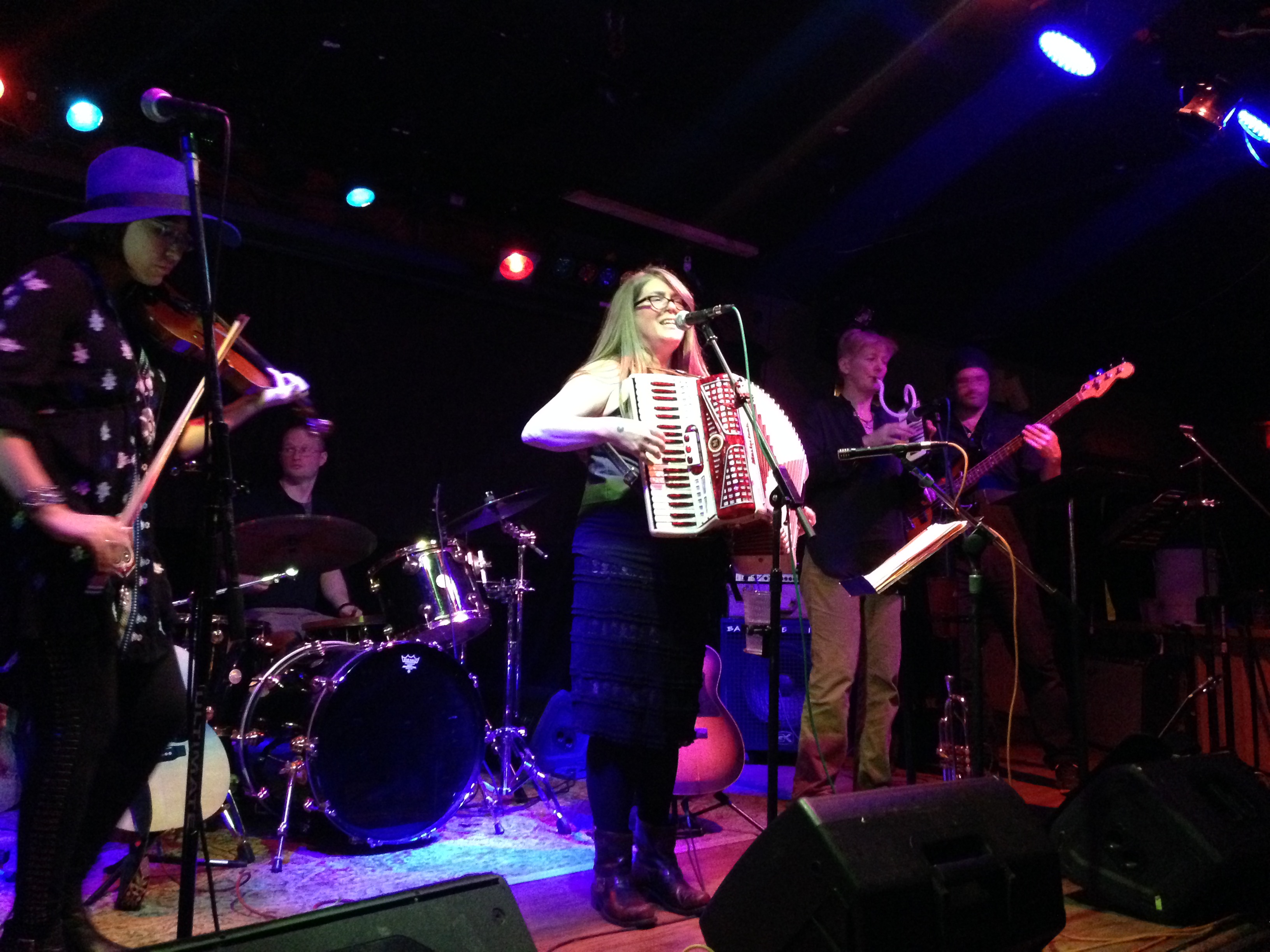 Photo Credit: Mark Ward
"We're gonna play two sets for you," she says into the microphone.  "The first one is ten songs, and then we'll come back for six more." 
The first set opens with "It's Just Me," a smooth, soulful track that allows Guttu to showcase her skills as a melodica player. Otherwise known as a key harmonica, the melodica has a rich, reedy sound that acts as a natural complement to Oden's crisp vocals. 
Oden is not particularly theatrical onstage; most of the time she sticks to her perch right behind the microphone. Her face often speaks just as loudly as her voice; she is expressive in her delivery, as showcased during her most popular track, "One Tattoo Girl." 
Although the backing band is full off impressive musicians in their own right, this is undoubtedly Laura's show. They all seem to fade into the background, all eyes on center stage. The magic of Oden, however, is her unwavering desire to take the spotlight and shine in on those who elevate her live sets. 
Guttu, who is well-versed in multiple instruments, has a couple trumpet solos and even showcases her skills on the ukulele. But it's Lukina's fiddle solo during "Sweetly Intertwined" that stuns the crowd. Her solo tells a tale of angst and uncertainty, saying more through music than can ever be said in words.
 
Things take a deeply personal turn when Oden introduces "Little Sister." 
"2016 was rough," she says. "Everyone in my family died. It's just me and my brother now." 
She pauses, her lips tilted into a grin. "The good brother. The bad brother is dead now." 
"Little Sister" is a song about appreciation and gratitude. Oden's voice is emotive and intimate. As a result, the song speaks to the soul of anyone with a cherished familial tie. "So nice to go home and not feel alone," she sings. 
The second half of the first set isn't as engaging as the first. While the earlier tracks bring new life into a well-worn genre, many of the later songs bleed into one another. It's not that they aren't good; they are Folk-Americana in the most traditional sense, but they aren't exciting. They don't get your feet tappin' like a good folk set should. 
Oden reins things back in when she starts her second set, opening with "Sleep Song." This is the best of Oden, a sassy, brash song that dares to demand more of a lover in front of a room full of strangers. "Throw me down and have your way with me," she croons to the hooting crowd. "Sweep this pin-up girl off her tired feet." 
Following on the heels of this fun opener is another snarky track wherein Oden laments about the difficulties of being a single woman. Pausing for dramatic effect, she and Guttu sing into the mic, "Why the hell is it so hard to get down a man's pants?" The crowd crazy, erupting into laugher and wolf-whistles. 
Overall, Oden puts on a good show. When she shines, she truly shines. Her voice is crystal clear and warm. Often you get so swept up in the music that you don't really pay attention to the lyrics and, while it could be detrimental, it just makes the moments Oden carries her lyrics over the music all the more special.